Google brings video sharing and chat directly to the YouTube mobile app for Android and iOS – Technology News, Firstpost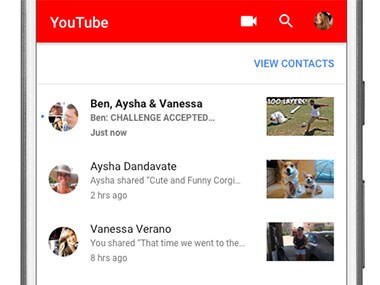 tech2 News StaffAugust 08, 2017 07:15:16 IST
Users of the YouTube mobile app now have a sharing tab that allows users to directly share videos with their contacts. There is also a private chat option, which allows a group of users to discuss a particular video among themselves. YouTube initially began testing a beta version of the feature by invitation with a few select users in May last year. Earlier this year, there was a wider rollout for users in Canada. Now the feature is enabled for all YouTube app users on smartphones, but is not available on the desktop version of the site.
Features were introduced based on user feedback. The share button below the video now shows your contacts' profiles on YouTube. It is possible to select several contacts from the list.
Once a conversation is started, you can discuss the video, invite more people, or share more videos in the chat stream. At the bottom of the app, along with Home, Trending, Subscriptions, and Library, there's now a "Shared" tab that contains all conversations.
The "Shared" tab contains a list of YouTube contacts with whom users frequently share videos. The move aims to make it easier to share videos, instead of users having to go through the tedious process of tapping the share button, copying the link, and pasting it into another instant messaging app. However, users can continue to share YouTube videos via links if they wish.