Add YouTube Videos to WebCampus | Digital Learning Office
YouTube video can also be added to your WebCampus course wherever there is a rich text editor (eg pages, discussions, quizzes, modules). Teachers should ensure that the content they use on YouTube is properly captioned for accessibility. Contact the Office of Digital Learning for additional guidance on captioning.
When using YouTube content that does not belong to you, be careful because the content could be deleted without warning.
Step 1: To connect to WebCampus and access your course.
---
2nd step: Open/create the item (i.e. page, discussion, quiz, etc.) where you want to add the YouTube video.
---
Step 3: In the rich text editor, click the arrow next to the "plug" icon. Select "Show All" from the drop-down menu.
---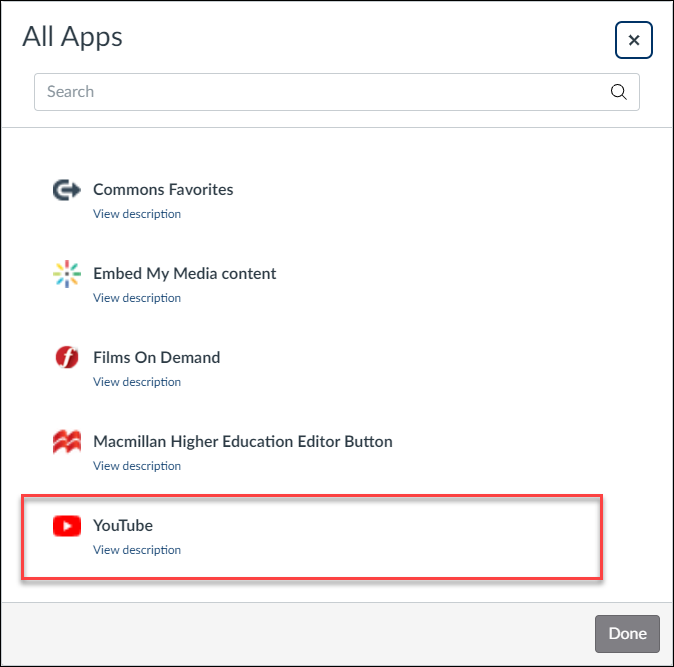 Step 4: In the window that opens, click YouTube.
---
Step 5: In the next window, use the interface to search for the YouTube video you want to add.
---
Step 6: Once you locate the video in the search results, click the Embed button next to the video. (Click the arrow to the right of the Embed button to open a drop-down menu that lets you select an embed size.)
---
Step 7: Your video will now display in the rich text editor. Click the Save/Save and Publish button as appropriate.
REMARK: You can also use the YouTube iframe embed code to embed the video through the HTML editor.